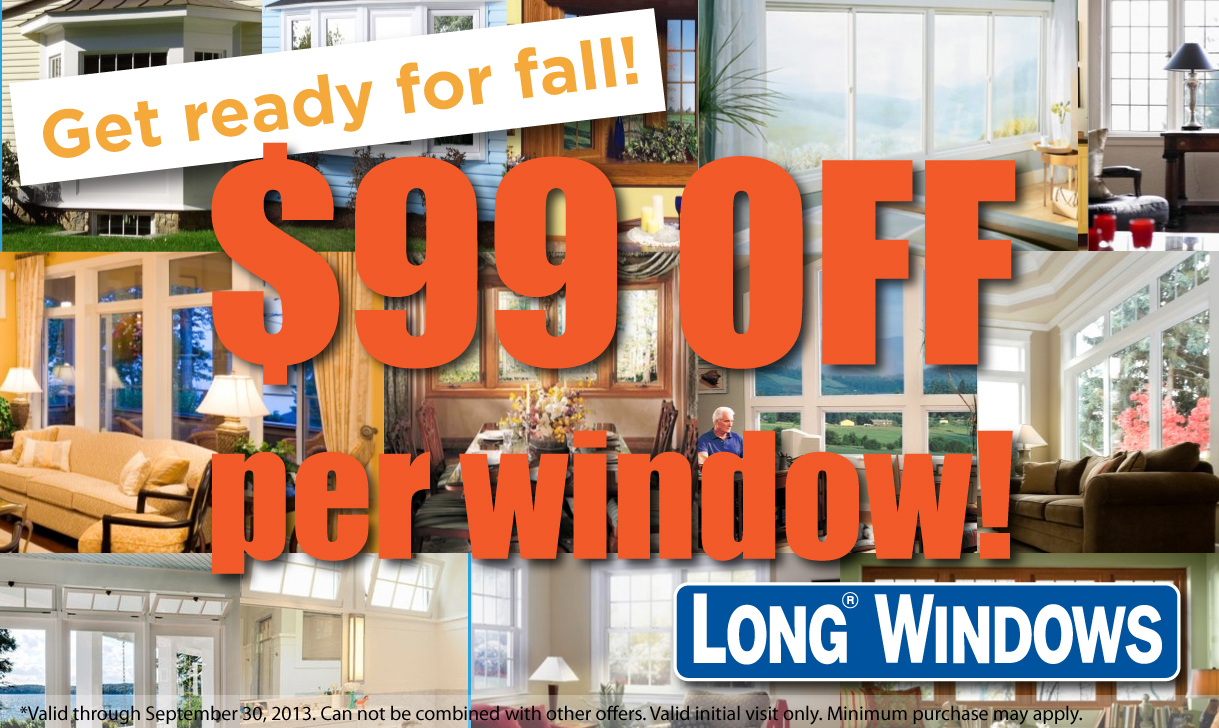 Happy September to you and your family! Isn't this year just flying by? Summer is leaving just as quickly as it came, and we suddenly find ourselves preparing for another gorgeous fall.
To kick off this autumn season, we're offering $99 off per window through the entire month of September. Get ready for the fall before the cool front comes in and into your home. Schedule your free consultation from Long Windows. You'll receive a full estimate on the project you want to do for your home, and there's no obligation at all.
Call us at 866-464-0300 and mention "$99 OFF" to set up your free consultation today. This is an exclusive offer and applies to window purchases through September 30, 2013.
–
Top 3 reasons to replace your windows
1. Increase energy efficiency. Whether you have your original windows or had them replaced years ago, most homes still have single-pane windows which leak energy, causing you to constantly have to crank up your HVAC unit. New windows with high levels of energy efficiency (take the R-value and U-factor into consideration) will help decrease your energy bills and keep temperatures more even throughout your home.
2. Beautify your home. Newer doesn't always mean more beautiful, but with sparkling new windows, beauty is inevitable. Like fresh new siding, brand new windows will give your home a facelift and make it look "like new" again. You can also choose new windows that allow more light into your home, creating more beauty and light on the inside as well.
3. Feel safe and secure. New windows will also help you keep your family safe and secure, with updated locking systems. Steel locks can be recessed into the window sash, creating an effect that's virtually burglar-proof, unlike vinyl locks which are screwed in from the top and are easy to break into. Be sure to consider the safety aspects when you go to replace your windows.