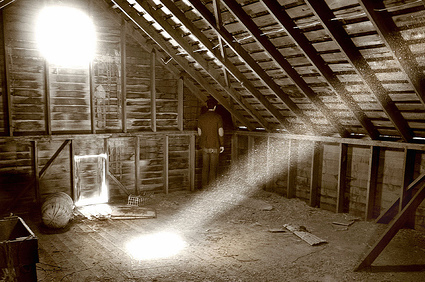 Winter will soon be here.  You are probably starting to realize what rooms in your home are more susceptible to losing all the warm air you pay for.   How can you be sure that you are getting the most out of the energy your home demands?  Knowing your home is well insulated takes some of the stress out of those winter energy bills.  Insulation is important throughout your home, but here we will examine one of the most neglected areas where warm air can escape – the attic.
For most homes, the attic is where we store our seasonal belongings, family photographs and old clothing.  It is also an excellent place to begin fully insulating your home.  Attics have the ability to drain your home's energy drastically.  This is prompting many in the green building industry to dedicate more time and resources towards solving the "attic problem". They are developing solar powered ventilation systems, fans and even spray foams.  However, the most effective measure might be something a little less burdensome.
Born from NASA technology, attic foils are proving to be the most popular measure to combat energy loss.  Have you ever noticed the silver material inside a bag of certain Frito-Lay's products?  This packaging method isn't there without a reason.  The material serves to maintain the temperature inside the bag to guarantee freshness.  Attic foils operate under the same premise, except it is your home which is remaining cool and fresh.  Using "Radiant Barrier" technology, this form of insulation repels both extreme heat and bitter cold.  This creates a better environment for maintaining a constant temperature and regulating energy usage. Also, it can save a homeowner up to 40% on energy costs during winter and summer months.
Whether you rely on window units or central air, insulation is imperative to keeping the cool air in your home.  So take this three-day weekend to spend a little time inspecting your attic.  If saving energy and money isn't your cup of tea, then you can always convert your attic into a luxury bathroom as seen here.