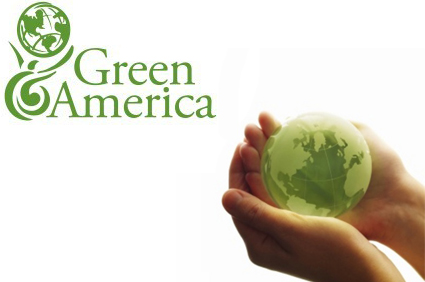 As individuals, there is no shortage of information about what we can do to promote a more sustainable way of life. What about corporations; how do they do their part to ensure a healthier planet? Who is there to help a willing, but uninformed business do their part? The answer comes in the form of a not-for-profit organization founded 28 years ago by the name Green America.
Green America, formerly Co-Op America, uses economic strategies to promote environmental responsibility and sustainability. By incorporating several facets of the economy (businesses, consumers, investors etc.), they aim to build strong and lasting communities across the nation. For individuals, they encourage people to use their dollars as votes for social justice and environmental sustainability. For business; they are pushing for an end in corporate irresponsibility and the introduction of fair trade business principles. Green America understands the power of supply and demand and uses it to create a world without want. The vision is to: "work for a world where all people have enough, where all communities are healthy and safe, and where the bounty of the Earth is preserved for all the generations to come." The task is large, but they are up for the challenge.
Green America utilizes a series of programs designed to guide consumers and businesses towards a greener tomorrow. Programs like "Living Green" and "Responsible Shopper" detail how changing a consumer's thought process will lead them to making better decisions for the earth. Their other programs, such as "Social Investing" and "Fair Trade", open businesses to new ideas that promote sustainable practices. These programs are supplemented by several publications with specific themes. This helps Green America share relevant content with their members and promotes a more cohesive effort.
Another facet of Green America is their "Take Action" page. They use this to spotlight current issues that could benefit from their services. Green America also provides an avenue for immediate action. For example; they are currently focusing on exposing fair trade practices to the chocolate giant Hershey. Readers who agree with this campaign can immediately send an email to Hershey's Vice President of Public Affairs and then share the information with their friends. This creates a springboard for an online community, while rallying people around a specific cause.
John DePaola, Long Fence and Home president, recently attended the "Annual Green America's Luncheon" to learn more about the organization and their causes.
"We can all do our part to make our world a better place for the long run. I appreciate the efforts of Green America as they help to promote methods that companies and people can add value to the environment as we continue running our businesses." – John DePaola
Green America's goals are distinct and achievable. Their creative use of the economic system is helping to grow and strengthen their community. To learn more about Green America, visit their website and consider becoming a member.